Origin of the Dead Ringer
Edit
The Dead Ringer is an unlockable weapon used by the Spy, in the game, Team Fortress 2. The function of the weapon is to cloak the user for 7 seconds upon being injured if it is held out,  leaving behind a fake dead body to distract enemies.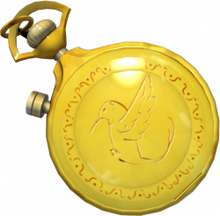 Users of the Dead Ringer
Edit
Phonofoot harnesses the dead ringer in his battle with Pterano, having Pterano decapitate the fake Phonofoot, while Phonofoot recovers. As a result Phonofoot returns unharmed to continue the battle against Pterano.